Shoe Accessories
Latest Dance Shoe Accessories for sale online in a variety of styles including pointe shoe glue, gel pads, and more.
---
Supadance Heel Protectors for Contour Heels: Package of 5 Pairs.
---
Body Wrappers Pointe Shoe Ruffer: Prevent pointe shoe slippage in class and on stage with Body Wrappers Angelo Luzio Pointe Shoe Ruffer! The signature suede leather brush creates friction by removing wax build-up from the bottom of shoes, giving your pointe shoes slip-resistant traction. Ruffer also features a no catch Velcro protector and a natural wood handle. This shoe brush is perfect for all shoes with suede leather soles.
---
Gaynor Minden Pointe Shoe Heel Grippers: Great for dancers with narrow heels, these pointe shoe heel grippers from Gaynor Minden fill out excess space at back of the shoe and the textured surface holds the foot in place. Gripper features peel-and-stick backing.
---
Pillows For Pointe Rosin: A classic prevention for pointe shoe slippage, this crushed rock rosin comes in a travel size container with a screw on safety cap.
---
Kryolan Toe Shoe Makeup: Cover shiny spots and keep pointe shoes looking their performance best with Kryolan's pale pink toe shoe makeup!
---
Pillows For Pointe Xtra Long Gellows: Pillows for Pointe introduces the first toe pads specifically designed for long toes and feet with bunions. The inside features an absorbent seamless sock and can be cut to fit. Hand wash and air dry.
---
All About Dance Pointe Shoe Glue: Extremely hard yet fast drying, this glue is used to re-harden the toe box and repair the shank, increasing the longevity of your shoes.
---
Daniels 1 oz. Pointe Shoe Glue: Repair, restore, and renew dead pointe shoes with this extremely strong yet light and flexible glue as it immediately repairs and hardens the weakened area of the shoe.
---
Prima Soft Pointe Shoe Extra Support Extension Ribbon: Prima Soft's extension ribbon is used by all level of dancers to alleviate excessive pressure on the Achille's tendon and protect against tendonitis. Ribbons fit snug and secure, yet stretch with the movement of the ankle. They enable the dancer to rise from pli, through demi-pointe and onto pointe with minimal constriction and no bagginess.
---
Pillows For Pointe Pointe Shoe Sachets: These fresh smelling cedar shoe sachets from Uncle Ba Ba reduce pointe shoe odor, absorb moisture and help retain shoe shape.
---
Theatricals Girls Tap Ties: A great alternative to ribbon ties on the T9000 and T9000C style tap shoes, these elastic straps will keep shoes in place with no worries of ties coming undone in the middle of class or performance. Features a black bead fastener. A teacher favorite! Size: One size.
---
Body Wrappers Pointe Shoe Ribbon Kit: This essential kit contains 2 1/2 yards of 7/8 wide stretch ribbon, 20 inches of 3/4 elastic, 2 needles,a spool of matching extra strong thread, Safety pins, and a stitch ripper.
---
Body Wrappers Pointe Shoe Stretch Elastic Ribbon Pack: Package includes 88 of 7/8 wide pointe shoe stretch ribbon in European Pink, ample for one pair of pointe shoes; cut to desired length. Designed for flexibility and security.
---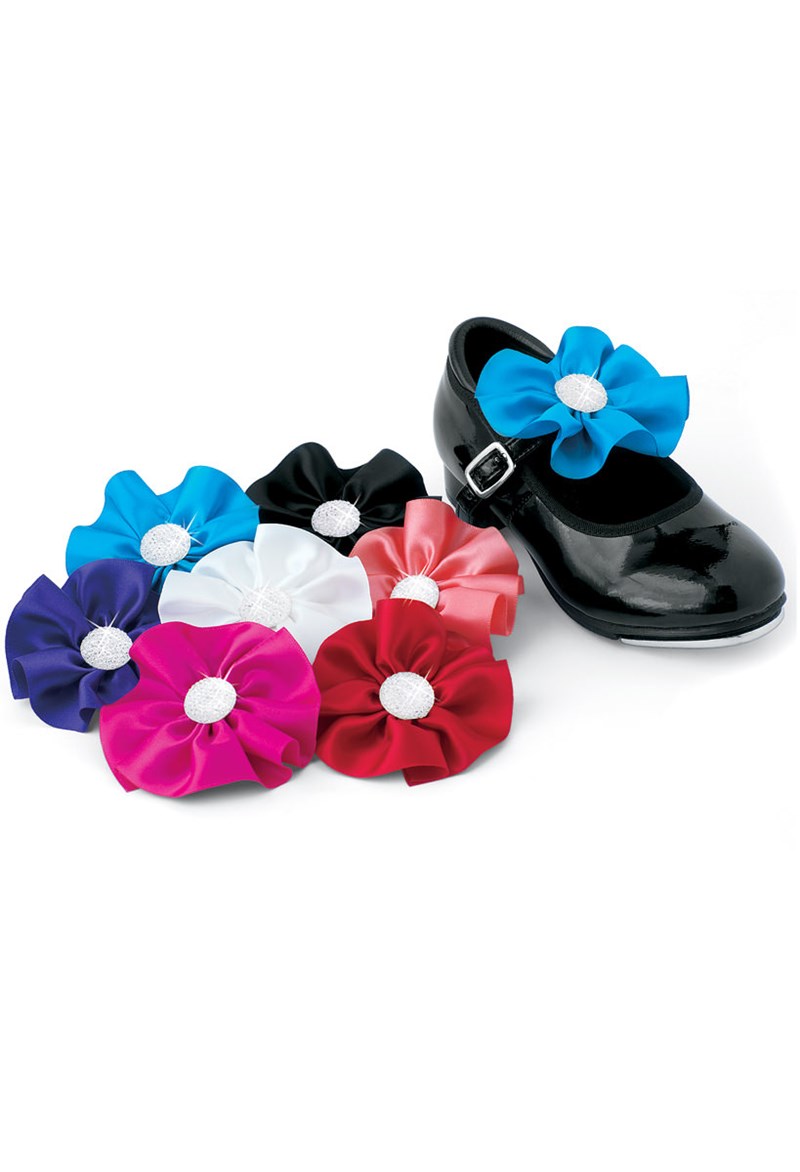 Balera Rosette Shoe Bow - many colors available: Satin rosette shoe or hair bows with jeweled center. 1 pair. Imported.
---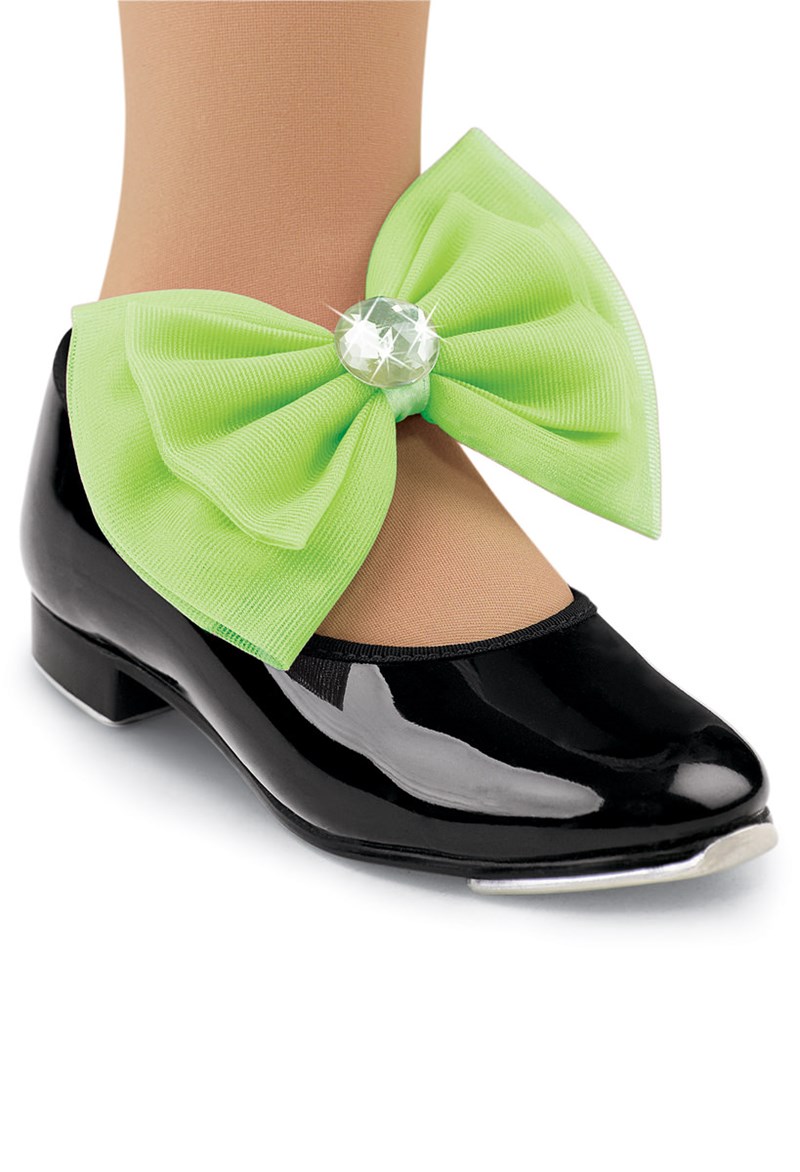 Balera Shoe and Hair Bow: Small tricot hair and shoe bows with matching jewels are set on elastic bands. Great as tap ties, too. 1 pair. Imported.
---
Freed Bulk 1/2 Narrow Elastic: Sold by the bolt, Freed's narrow European pink elastic. Measures 100 yards.
---
Freed Bulk 3/4 Wide Elastic: Sold by the bolt, Freed's ' wide European pink elastic. Measures 36 yards.
---
Freed Bulk 1 Wide Ribbon: Freed European Pink 1 ribbon. Sold by the bolt. Size: 54 yards.
---
Gaynor Minden Pointe Shoe Fitting Kit: This pointe shoe fitting kit from Gaynor Minden comes with all the tools necessary to perfect pointe shoe fit and comfort! Kit contains: two pairs of oval cushions that are useful for any sore or tender spots; Dynamic Box Liners that hug the forefoot around the sides and top to make the shoe box narrower and prevent painful sliding; a compress that allows foot expansion in jumping and expands to hold the foot up and in place on pointe; large and small crescents to create toe pocket protection; mushrooms to protect and cushion the big toe and toenails; side cushions that prevent the foot from sliding into the box while also cushioning little toes.
---
Sansha Adult Pointe Shoe Covers: Wear Sansha's pointe shoe covers backstage and before class to protect soles and keep them looking like new!
---
More shoe and foot care products at All About Dance.
---