Shoe Accessories
Latest Dance Shoe Accessories for sale online in a variety of styles including pointe shoe glue, gel pads, and more.
---
AllAboutDance Pointe Shoe Glue: Extremely hard yet fast drying, this glue is used to re-harden the toe box and repair the shank, increasing the longevity of your shoes.
---
Bloch Pointe Shoe Stretch Kit: A dance bag necessity! This professional stretch kit by Bloch features everything you need to get to keep your pointe shoes in perfect shape! Features 2 yards of stretch ribbon, 20 inches of elastic, 1 need, and thread for stitching.
---
Body Wrappers Pointe Shoe Ruffer: Prevent pointe shoe slippage in class and on stage with Body Wrappers Angelo Luzio Pointe Shoe Ruffer! The signature suede leather brush creates friction by removing wax build-up from the bottom of shoes, giving your pointe shoes slip-resistant traction. Ruffer also features a no catch Velcro protector and a natural wood handle. This shoe brush is perfect for all shoes with suede leather soles.
---
Bunheads Colorful Ouch Pouch Jr. Large: Simply a smaller version of the original, the Ouch Pouch Jr. by Bunheads is great for smaller or wider feet and for those who want only the toes cushioned. 2 per package.
---
Bunheads Instant Jet Glue: Bunheads has partnered with the originator of Instant Jet Glue - the best pointe shoe hardener on the market! Available in a one ounce container, this smaller bottle minimizes the risk of glue drying out prematurely for less wasted product. Maximize the life of pointe shoes by applying a thin layer of fast drying Instant Jet Glue to the inside of the toe box and/or the shank of the shoe. Size: 1 oz
---
Bunheads Large Pro Pad: For those dancers who don't want the sensation of gel underfoot, the Pro Pad by Bunheads is designed so a layer of gel inside a fabric-covered pouch cushions the tips of the toes only. Soft seams flatten on pointe. Pads are washable, can be cut to size and feature non-migrating gel so they won't bottom out. 2 per pack.
---
Bunheads Large Protective Toe Tips: Alleviate pressure that causes bruised toenails with Bunheads' Seamless Big Tips, specifically designed for the big toe or longer toes! Slip jelly tips onto affected toes for immediate comfort and protection! Tips should be cut to the length needed for protection, but short enough so that circulation is not impaired.
---
Bunheads Pinky Pads: Say goodbye to beat up toes with Bunheads' Pinky Pads! Pinky Pads are made of a supple polymer gel, helping to prevent or provide relief from corns or blisters. Designed for the pinky toe, but can be worn on any of the small toes.
---
Bunheads Stitch Kit: The perfect stitch kit by Bunheads that is easy to keep in your dance bag at all times. The convenient container holds 75 yards of very strong, lightly waxed nylon thread with two large-eye needles. Kit contains instructions for sewing pointe shoes with proper placement of ribbons and elastic. This neat little kit will help you to always be prepared for class and performance.
---
Bunheads Toe Tape: Used by professionals and novices alike, Bunhead's crepe toe tape reduces friction and prevents the chafing that causes blisters.
---
Capezio Adult Barefoot Extend Ballet Shoes: Capezio's Extend ballet shoes are the closest you'll feel to dancing in bare feet. The seamless sock-like design, combined with the polyurethane toe and heel patches and inner silicone strap, give total support while feeling like you're wearing next-to-nothing. Combine with the Arch elastic band for support unlike any ballet shoe'
---
Daniels 1 oz. Pointe Shoe Glue: Repair, restore, and renew dead pointe shoes with this extremely strong yet light and flexible glue as it immediately repairs and hardens the weakened area of the shoe.
---
Danshuz Mesh Pointe Shoe Bag: Conveniently store your shoes in this heavy duty mesh bag featuring a zipper front pocket and a toggle pull drawstring. Size: 12 x 15
---
Gaynor Minden Foam Toe Tape: Gaynor Minden's foam toe tape helps protect toes from painful blisters and chaffing caused by pointe shoes!
---
Gaynor Minden Instant Wing Insoles: Enjoy the extra security and comfort of a winged toe box without the expense or delay of a special order. Firm, resilient Instant Wings provide cushioned support - just where you need it. Simply fold each wing in half and slide it into the toe box; your foot with keep it in place. Instant Wings are made from real Poron Performance Cushioning.
---
Gaynor Minden Pointe Shoe Fitting Kit: This pointe shoe fitting kit from Gaynor Minden comes with all the tools necessary to perfect pointe shoe fit and comfort! Kit contains: two pairs of oval cushions that are useful for any sore or tender spots; Dynamic Box Liners that hug the forefoot around the sides and top to make the shoe box narrower and prevent painful sliding; a compress that allows foot expansion in jumping and expands to hold the foot up and in place on pointe; large and small crescents to create toe pocket protection; mushrooms to protect and cushion the big toe and toenails; side cushions that prevent the foot from sliding into the box while also cushioning little toes.
---
Gaynor Minden Pointe Shoe Heel Grippers: Great for dancers with narrow heels, these pointe shoe heel grippers from Gaynor Minden fill out excess space at back of the shoe and the textured surface holds the foot in place. Gripper features peel-and-stick backing.
---
Kryolan Toe Shoe Makeup: Cover shiny spots and keep pointe shoes looking their performance best with Kryolan's pale pink toe shoe makeup!
---
Leo's Soft Pointe Toe Pad: This Soft Pointe gel toe pad features an odorless polymer gel and is one of the softest gel toe pads available. Toe pads are resistant to skin oils and are tear resistant while still easy to trim for the perfect fit. Refresh with talcum powder when needed.
---
Pillows For Pointe Mesh Bag: Open weave mesh bag with cinch drawstring and matching inner mesh pocket. Perfect for storing shoes and accessories! Size: 12L x 13.5H.
---
Pillows For Pointe Pointe Shoe Sachets: These fresh smelling cedar shoe sachets from Uncle Ba Ba reduce pointe shoe odor, absorb moisture and help retain shoe shape.
---
Pillows For Pointe Rosin: A classic prevention for pointe shoe slippage, this crushed rock rosin comes in a travel size container with a screw on safety cap.
---
Pillows For Pointe Stikit2Me Roll-on Body Glue: Keep straps, glitter, rhinestones, or any accessory you need to stick-on, in place. Gentle and flexible on the body and rinses off with water. Size: 2 oz.
---
Pillows For Pointe Xtra Long Gel Tip Toe Pillows: Extra long gel tip toe pillows are a combination of Lambs Curl Toe pillow designed with a unique gel tip. For dancers with longer toes or feet.
---
Pillows For Pointe Xtra Long Gellows: Pillows for Pointe introduces the first toe pads specifically designed for long toes and feet with bunions. The inside features an absorbent seamless sock and can be cut to fit. Hand wash and air dry. Sizing: Fits size 4.5 point shoe and over.
---
Pillows For Pointe Xtra Long Super Gellows: Extra long super gellows feature seamless cool max socks on both sides with a thin layer of gel in-between to reduce impact to the foot.
---
Pillows For Pointe Xtra Long Toe Pillows: Extra long toe pillows are soft Lambs Curl Toe Pillows that feature a Soft Seam, eliminating commonly-found bulky and irritating toe pad side seams. Created for dancers with longer toes or feet.
---
Pointe Snaps Pointe Powder: Pointe Powder is designed to keep feet and shoes dry and deodorized to extend the life of your dance shoes. Reduces friction. A dance bag must-have!3 oz.
---
Pure Style Girlfriends Stay Put Double-Sided Fashion Tape: Control your leotard straps with this double-sided tape designed with medical grade adhesive that is water-proof, sweat-proof and invisibly clear! Size: 25 strips included.
---
Rhinestones Unlimited E6000 4 Oz. Fabric Glue: E6000 Fabri-Fuse is a stretch glue that allows fabric to remain flexible even after washing, dries clear, and is acid free with low odor. Size: 4 fluid ounces.
---
Skunkies Skunkies Odor Eliminator Pads-Pink Peace: Be at peace with your stinky dance shoes and dance bag! Skunkies peace sign odor eliminating pads will absorb moisture and prevent bacteria! Priced per pair. Size: 4x3.
---
Sure Foot Foot Rubz Massage Ball: Modeled after Asian acupressure, the portable Foot Rubz rubber massage ball allows you to soothe tired feet and achy muscles anywhere! Simply apply pressure to problem areas to customize the intensity and depth of your massage, providing instant relief! Size: 6 circumference.
---
Theatricals Girls Grosgrain Tap Ribbon: Replacement grosgrain ribbon for tap shoes. A dance bag must have!
---
Yofi Cosmetics Stick It Roll-On Adhesive: Roll on body adhesive for clothing, costumes, uniforms and accessories. It is designed for dress straps, leotards, nylons, stockings, shoulder and cleavage areas or any accessory you need to stick in place. Just roll on, and Stick It will hold what you want where you want it. Great for rhinestones and glitter face stickers too! Gentle on the skin and washes off with soap and water or wet wipes. Stick It roll on adhesive can be used as "butt glue" to hold leotard leglines in place. Can also be applied to keep shorts from riding up. Size: 1.1 oz.
---
Supadance Heel Protectors for Contour Heels: Package of 5 Pairs.
---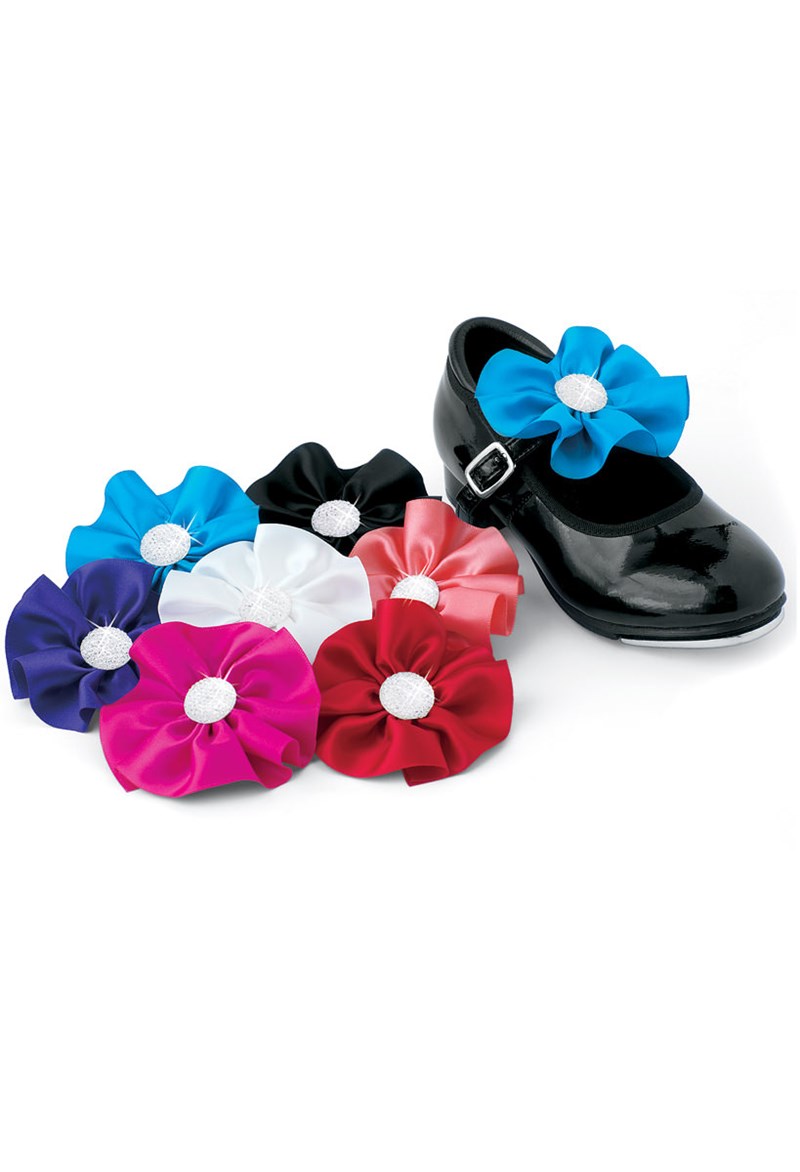 Balera Rosette Shoe Bow - many colors available: Satin rosette shoe or hair bows with jeweled center. 1 pair. Imported.
---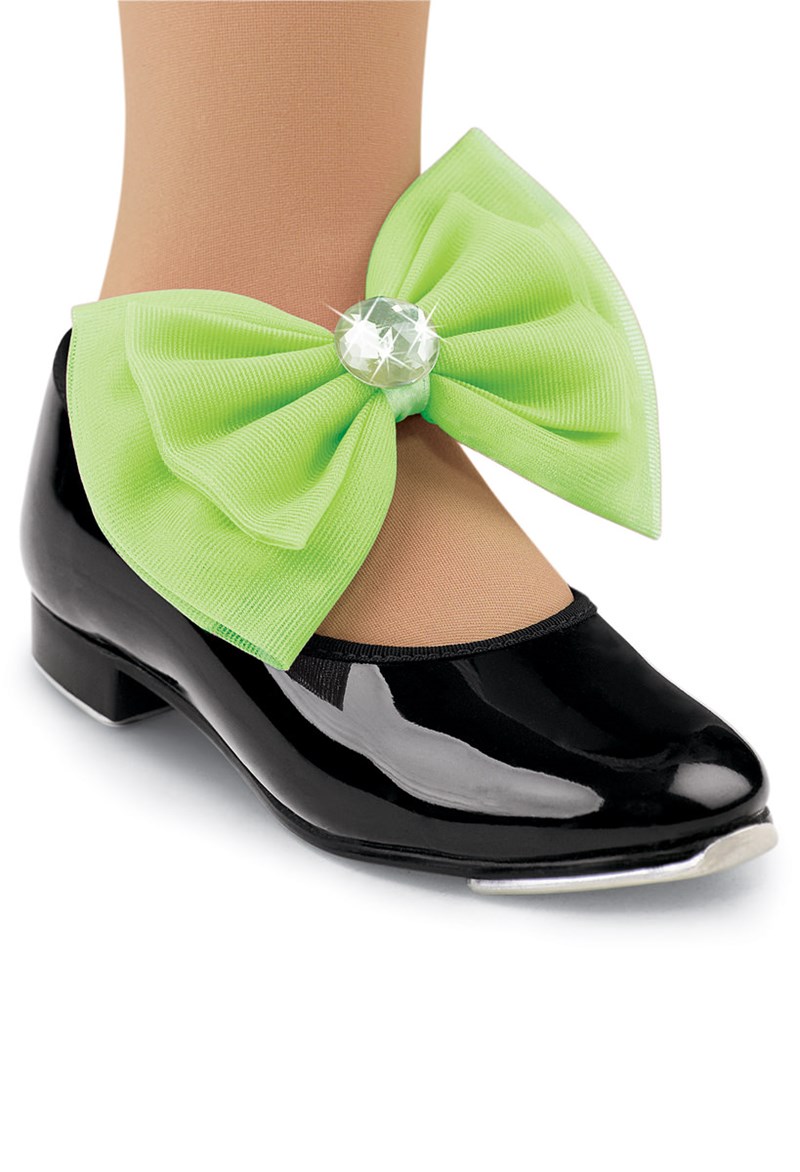 Balera Shoe and Hair Bow: Small tricot hair and shoe bows with matching jewels are set on elastic bands. Great as tap ties, too. 1 pair. Imported.
---
More dance shoe and foot care products at All About Dance.
---