BALLERINA CHECKS
Buy Ballet design personal checks online in a variety of styles. These Designer Checks cost the same price or less than what the bank would charge for regular generic checks.
---

On My Toes Checks ~ The use of lines and color make this four check series of ballet checks a wonderful option for your checkbook!
---

En Pointe Ballet Slippers Checks ~ Two alternating images
---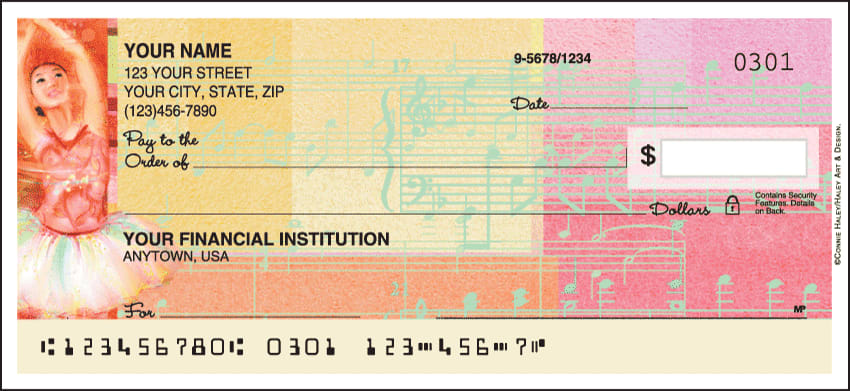 Ballerina Personal Checks ~ 4 different pictures by artist Connie Haley.
---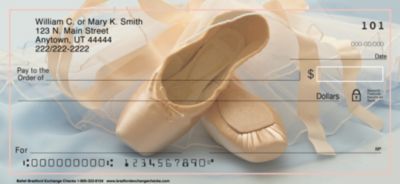 Ballet Personal Checks ~ Four delicate images capture the essence of ballet with ballet shoes, dancing feet and ballerinas stretching on the bar. Matching ballet slippers checkbook cover and return address labels also available.
---

I Love Ballet Checks ~ Feel the movement in these four graceful ballet scenes! The ballerinas are bright and vibrant against the charcoal background. These personal checks will make you feel peaceful and elegant, and leave you anticipating the next time you get to fill one out!
---

Romantic Beach Ballet Personal Checks ~ An attractive young couple dancing ballet in flowy, whimsical outfits in front of a beautiful golden sunset over the ocean. Bring fantasy to life when you carry these personal checks in your checkbook.
---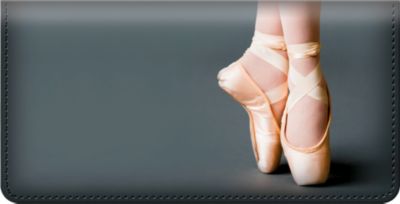 Ballet Slippers Checkbook Cover ~ Genuine Leather Check Wallet Shows Your Love for the Arts - Nothing tells a story without words better than the beloved art form of dance! Design showcases an elegant image of a ballerina's feet dancing en pointe against a grey background.This exclusive ballet checkbook cover is handcrafted of genuine, full-grain leather. High-quality features include premium nylon thread stitching, fabric lining, a clear duplicate check divider, slip-in personal check pocket, and a second pocket to hold cash or receipts.
---
ALSO SEE: BALLROOM DANCE CHECKS for more dancer check designs.
---
Visit our partner sites for other check styles:
DESIGN PERSONAL CHECKS custom printed with any photo.
Checkspressions for over 3,000 unique check designs.
---